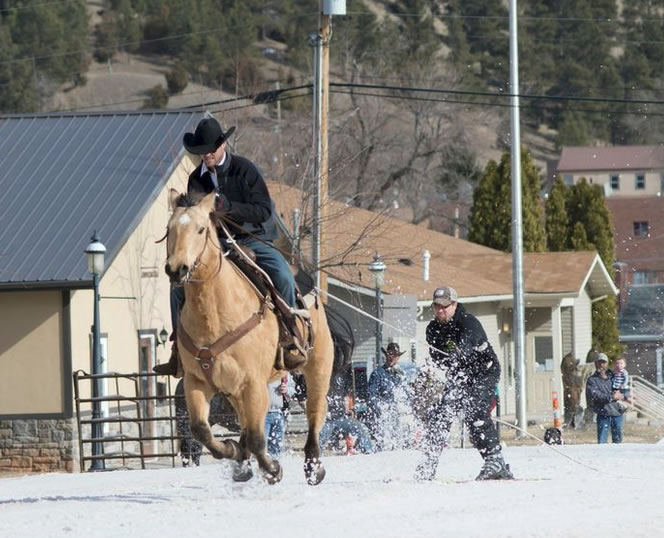 Grab a friend and join the Ski-Joring fun as a cowboy on a galloping horse or the skier being pulled down Sundance's Main Street through an obstacle course complete with snow jumps. Make a costume and be creative with a barstool and an old pair of skis and you can enter the wild and wooly Downhill Barstool Races. Are you a budding artist? Form a team of snow carvers to show off your skills in the Snow Sculpting competition. More of a snow shoosher type? Learn how to cross country ski at a Saturday clinic or race against the best of the best in the Sundance Winter Festival Nordic Ski Race.
Load up the family as the 3rd Annual Sundance Winter Festival has something for everyone! There will be sledding for the kids, food vendors and live entertainment at the pubs.
Sundance! Let the name spark your imagination of days long ago when rowdy cowboys whooped it up on Saturday nights or perhaps you envision serene Native American villages camped at the base of the Sundance Mountain where they performed their sacred Sun Dance ceremonies. This historic town welcomes the visitor to come and explore the rich history and soak in the vibrant vistas where the beauty of the rugged west comes alive. Sundance meets the traveler's needs whether it be restaurants and bars, hotels and lodging, retail shopping or just a tank of gas. The friendly merchants are ready to serve your every need.
Check out the 3rd Annual Sundance Winter Festival (and be sure to Like us on Facebook!) event details on the Sundance Area Chamber of Commerce website @ www.sundancewyoming.com and feel free to call Steve for more information (307) 290-2544.
Download the Schedule of Events
We are looking forward to seeing you at the Sundance Winter Festival. Please download our schedule of events so you know what time you need to arrive to participate in events. All times are estimated.